 Reputation: 0
Registered: 27-Jun-2013
Posts: 71
Hey peeps. A couple of weeks ago I was kinda bored and thought that after 10 years of using a computer I should probably have learned how to type 10 finger blind by now. Not because of the speed, but mainly because typing with 3 fingers isn't the most effective when trying to copy something. So I decided to do some quick classes to get the positions right and stuff like that. I am now able to type 10 finger type qwerty blind, although not as fast as I can type with 3 fingers. Note: I also type with 3 fingers completely blind. I mean copying as in copying a paper laying next to the screen.
This is how quick I can type while only using 3 fingers. Pretty impressive for hunting and pecking I guess. This is on a normal laptop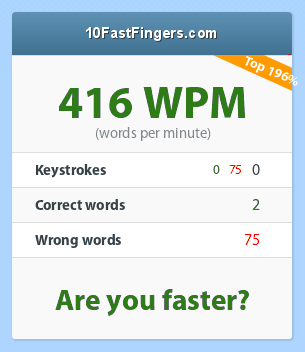 I can 10 finger type qwerty blind at 60ish WPM now, although if you'd give me some more time I'd be able to do it at 80 as well.
I've started learning Dvorak 3 days ago, and can reach speeds of about 80 characters per minute/15WPM now. I know the location of all the letters now, and it's just a matter of speeding up. I know this isn't the Dvorak forum, but it is as close as it gets, and I'm pretty sure that some people know how to type it over here.
I am Dutch and Dutch is the language I'll be typing most of the time. Letter frequencies are slightly different than the English ones, but are close enough anyways.
Would you reckon I'd be able to go (a lot) faster than I'm currently doing?
Cheers
Note: I am new to this site and haven't read much here. But this being the internet let me please make clear that I do not want a Dvorak-Colemak war. Although things like that are often inevitable. Anyways, Cheers again.
Last edited by koekjestrommel1 (27-Jun-2013 23:02:13)